Enrollment is Now Open for August 2023!
| Timeline
In the 2023-2024 school year, we will accept a maximum of 36 students from 6th-8th grade. We will maintain a waitlist once we are full. Here is the 2023 timeline of events:
February 1, 2023 – Official enrollment begins
July, 2023 – Orientation
August 7, 2023 – First day of classes
Open enrollment continues as spaces open up throughout the year.
We will admit students on an ongoing basis. Once our roster is full, prospective students can apply to join our waitlist.
| Application Process

In order for your child to be considered for admission to LeadAZ Private School:
Fill out Online Inquiry Form to join our waitlist. After submitting the form, you will be contacted by a LeadAZ staff member within 1 week to share more info and for Q&A.
If you feel that your child is a good fit for the LeadAZ community, we will send you the full application.
Once the application is complete, a staff member will schedule a student/parent interview at the LeadAZ campus.
Families will be informed of their acceptance within 2 weeks of completing the interview.
Once a student is accepted, they will begin the onboarding process so they're ready for school to start on August 7th!
There are no academic requirements to attend LeadAZ. We accept all motivated learners regardless of their past school performance or learning preferences. Our only requirements are 1) the student wants to attend LeadAZ and 2) LeadAZ staff believe that both the student and their parents will benefit from joining the LeadAZ community and enjoy their experience to the fullest. We reserve the right to deny any application, but we only do so if we believe the student will be better served in a different learning environment.
| Fees & Tuition
LeadAZ provides a variety of options to ensure that tuition is affordable for all families. The following resources are available to all students:
Tuition: $16,000
Payment Option 1: Families can pay full tuition with quarterly payments.
Payment Option 2: Families can pay part of their tuition out of pocket and use one of the four options below (some families pay $0 out of pocket)!
Empowerment Scholarship Account – Funding between $5,000 – $7,000/year.
Individual Tax Credits – Families and friends can donate an unlimited amount for individual students. LeadAZ has tax credit funding available for families in need.
Corporate Tax Credits – Businesses can donate all of their Arizona taxes to provide scholarship for students with financial needs.
Scholarships – Financial aid is available to all students. Preference is given based on financial need, but no students are excluded. Additional scholarships will be given for long-time LSA supporters. Financial assistance plans will be finalized during the application process.
| Campus Location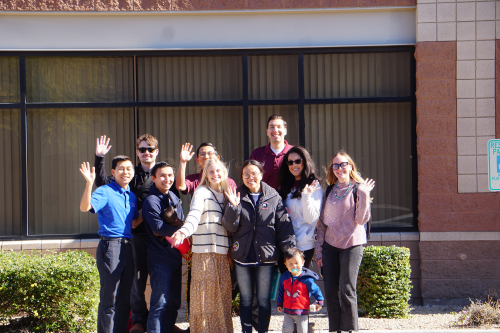 We are in the process of final municipal approval for our amazing campus! We will be sharing information as soon as the campus is open to the public. Here's some helpful information about our location:
We will be using a former corporate suite with lecture space, quiet study areas, a small kitchen, and a fun student lounge for free time activities.
The campus is 2 miles from ASU right off the I-10 freeway.
Arrangements will be made for physical activities and exercise at nearby parks/facilities.